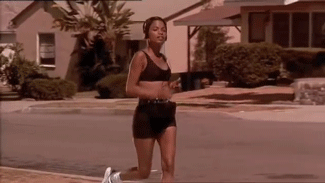 They say that married men attract women. I say, the moment you take a leave of absence from your relationship, exes like to pop back into the picture. I'll start from the beginning…
I wanted to walk down the street with an ice cream cone in my left hand, a guy's hand in my right, gazing into his eyes, singing Summer Love by Justin Timberlake. That song did something to me and the summer my partner got locked up and sent away, my plans of doing so were shot – or so I had initially presumed.
We connected over Facebook, sharing mutual friends although he and I never met and our respective college campuses, hundreds of miles apart. I fell for his sweet online gestures and decided to meet him in person, never thinking twice that I could possibly be meeting a psychopath and be the face of another Lifetime movie about a woman who foolishly met a stranger on the internet. But he was a charming guy, a man I usually wouldn't go for yet gave a chance because I wanted nothing more than to manifest the lyrics to Justin's song in real life. It went down how JT sung it –
"Tell me where you from, what you do, what you like, let me pick your brain girl… But let me show you 'round, let me take you out, bet you we could have some fun girl."
I fell for it. Shame on me.
I was no longer the ride-or-die I promised my partner I'd be when he got sent away – I was now someone else's girlfriend. I made promises over collect calls from jail that were made in vain. My partner asked for pictures and I sent him none, being that my days were spent with my summer fling riding around and getting it in New York City.
It all happened so fast; I met his mother and he met mine. We took trips to places I'd never been and as the days grew hotter, so did our temporary romance. As a firm believer in karma, I was so caught up in this "love", forgetting that I cheated on my partner, that towards the end of summer, I found my new boo cheating on me.
We went from Summer Love to What Goes Around, Comes Around.
"It goes without saying that you left me feeling hurt. Just a classic case, a scenario. Tale as old as time – girl, you got what you deserved."
So, if we fast forward to the present day, you'll find that me and the summer-ex actually maintain a good friendship. However, something happened to me a few weeks ago that made me terribly uncomfortable.
On a Monday, he posted a picture of him and his current girlfriend that he's been with since our breakup in 2007. They look extremely happy – I double tap the photo . On a Tuesday, he texts me about what we used to have. He tells me about his relationship and asks me if I miss him, that summer, those nights, the things we used to do.
Man, what?
I don't bother entertaining his need to sext and his obvious displays of horniness. Remembering karma this time around, I tell him that I refuse to give into his demands because Lord knows if I catch my partner sending sexually explicit messages to an ex – or any woman for that matter – I'll be the face of another Lifetime movie about a woman who ended up in jail after viciously attacking her spouse.
No thank you, I won't fall for it again. I'm also too old to be playing phone-tag with other women, answering questions about her relationship for her uncertainty or satisfaction. That used to be me. I don't live there anymore.
It's an interesting feeling knowing although it didn't last long, you had a major effect on someone who still thinks about the past but it's an amazing feeling to be with someone who wants to work out the kinks in your relationship and focus on the future.
I won't look back.
Erica, Twitter: @KaeNdKamsMom & @everythingEnJ